My name is Nico and I am a sound engineer. Music is my passion and I have been doing audio engineering for years. I specialize in
for clients, helping them bring their songs and projects to life with great sound quality. Checkout these offers:
Once the payment process is complete, please send files to my email address: nicobackingtracks@gmail.com. To ensure a smooth transfer, kindly use wetransfer.com, a reliable platform that allows you to send files up to 2 gigabytes.

Rest assured that we will handle your project with utmost care and professionalism. Our team of experienced professionals will work diligently to create a high-quality mix for you. You can expect to receive your mix via email within approximately one week.
---
Mixing and mastering
Recording, mixing and mastering are my areas of expertise. I am constantly learning new techniques and improving my craft so that I can deliver the best possible results for my clients, no matter the genre of music. My goal is simple: to make every track I work on sound as amazing as it can possibly sound. Great audio is my passion and I love what I do.
With my expertise in the industry, I will work tirelessly to achieve perfect sound quality that meets industry standards. I understand the importance of a project that stands out and resonates with your audience. Therefore, I will collaborate with you every step of the way to ensure your vision comes to life.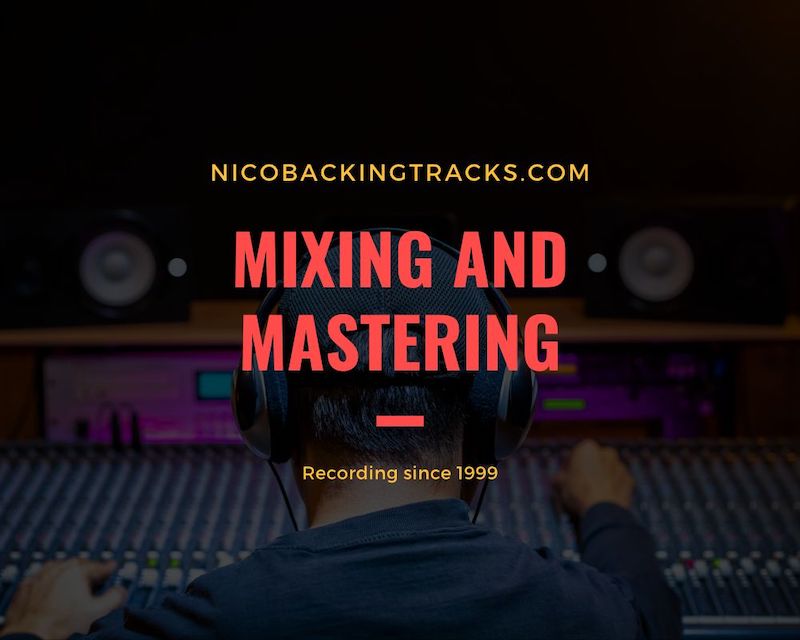 Professional Mixing and Mastering Services for Songwriters
Are you a talented songwriter looking to take your music to the next level? If so, I have the perfect solution for you. Introducing my professional mixing and mastering services, designed to give your songs that polished and industry-standard sound.
We understand the importance of having high-quality production that grabs the attention of listeners and stands out in a saturated market. With our top-of-the-line equipment and expertise, we will transform your raw recordings into sonically stunning tracks that will captivate your audience.
Not only do we offer exceptional sound quality, but we also provide our services at unbeatable prices. We believe that every artist deserves access to professional mixing and mastering without breaking the bank. By working with us, you can save money while still achieving the same level of excellence as established artists.
Don't just take our word for it - our satisfied clients rave about our services. They have experienced firsthand how their music has been elevated to new heights with our meticulous attention to detail and commitment to delivering exceptional results.
So, if you're ready to make a lasting impact in the music industry with your upcoming album, trust us to handle your mixing and mastering needs. Choose quality, affordability, and professionalism - choose us for an unmatched sonic experience. Contact us today to discuss how we can bring your vision to life!
Why Choose Our Mixing and mastering services?
Choosing our
mixing and mastering services
comes with numerous benefits that set us apart from the competition. Here are a few compelling reasons why you should consider us:
1. Professional Expertise:
Our team consists of highly skilled audio engineers with extensive experience in the music industry. We possess the technical knowledge and artistic sensibility to enhance your tracks and bring out their full potential.
2. High-Quality Results:
We are committed to delivering top-notch audio quality. Through meticulous attention to detail, we ensure that your tracks are mixed and mastered to perfection, resulting in a professional and polished sound that will captivate your audience.
3. State-of-the-Art Equipment:
We utilize cutting-edge technology, industry-standard software, and high-quality audio gear to achieve the best possible results. Our advanced tools enable us to enhance the clarity, depth, and overall sonic characteristics of your music.
4. Customized Approach:
We understand that each artist and project is unique. We take the time to listen to your vision, preferences, and goals, ensuring that our mixing and mastering align with your artistic intentions. By tailoring our services to your specific needs, we help you create a sound that represents your style and identity.
5. Timely Delivery:
We value your time and understand the importance of meeting project deadlines. When you choose our services, you can rely on our commitment to delivering your final mixes and masters on schedule, allowing you to stay on track with your release plans.
6. Competitive Pricing:
We offer our professional services at a competitive rate, providing excellent value for the quality and expertise we bring to your project. We believe that exceptional audio production should be accessible to all artists, regardless of their budget.
7. Collaborative Partnership:
We view our relationship with clients as a partnership. We actively involve you in the process, encouraging open communication and feedback. Your satisfaction is our priority, and we are dedicated to ensuring that the final result aligns with your artistic vision.
In conclusion, choosing our mixing and mastering services means gaining access to professional expertise, high-quality results, state-of-the-art equipment, customization, timely delivery, competitive pricing, and a collaborative partnership. Let us help you elevate your music and make a lasting impact on your audience.